THE FRANCHISE
By Budd Mishkin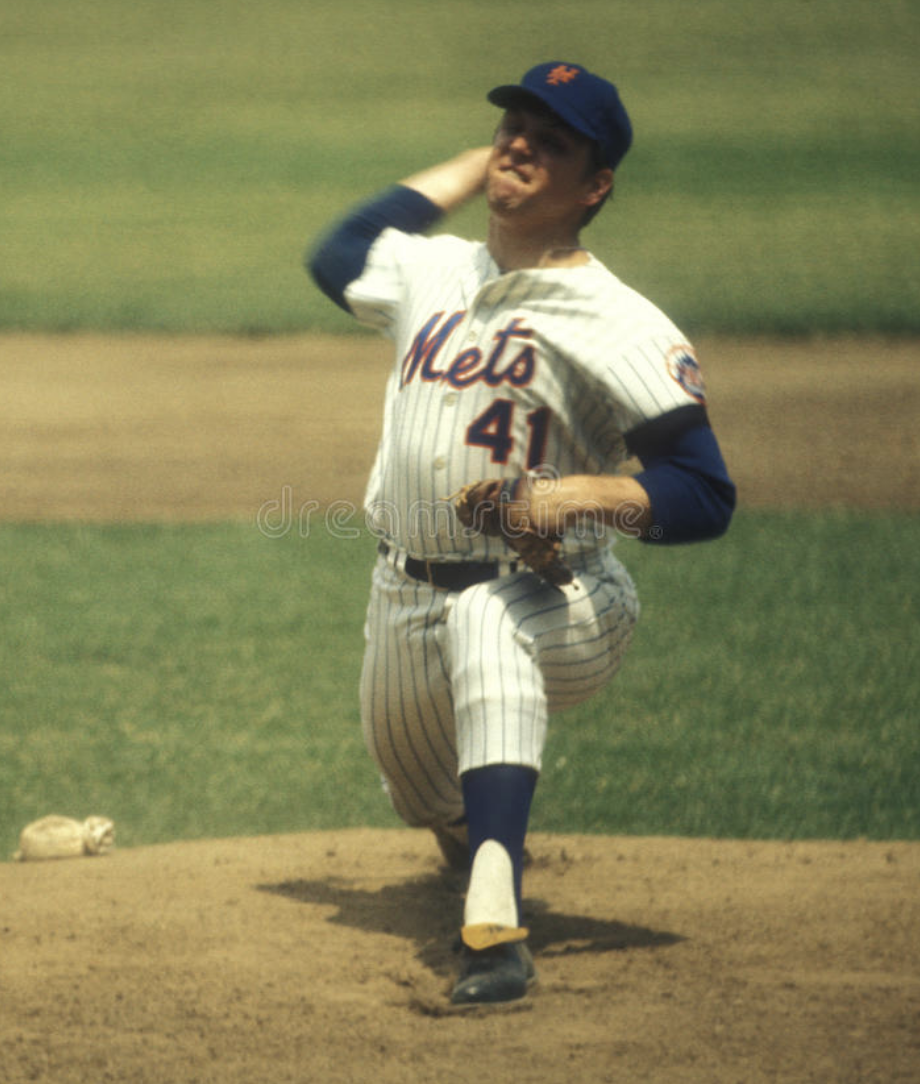 My father was a Mets fan.  Yes, the Amazin' Mets.  He was actually an old New York (baseball) Giants fan whose team left town after the 1957 season.  "Did you ever think about then rooting for the Yankees," I recall once foolishly asking him.  He didn't actually say "what are you, a wise guy."  He didn't have to.  A few years later, he became a Mets fan.  As did my brother Douglas.  So when it became my turn to choose a New York baseball team, I went with the Yankees.  Bad timing.  It was 1965.  But in 1969, it was hard not to be a Mets fan.  No matter who you rooted for, you had to appreciate one of the greatest seasons in New York sports history.
I always loved Tom Seaver's nickname.  The Franchise.  When word came Wednesday night that Seaver had finally succumbed to a long battle with dementia, my thoughts immediately turned to the night of perhaps his most famous game.  And of course, to my father.
On Tuesday July 8, 1969, the Mets found themselves in an unfamiliar position: in a pennant race in July.  Not only had it never happened during the Mets first seven seasons.  It was completely outside the realm of possibility.  They weren't even close.  Amazin'? Hardly.  But in July, 1969, the Chicago Cubs came to town in first place with the Mets nipping at their heels.  The first game of the series was actually played on a Tuesday afternoon.  Why would I remember that? Because I was there!  My friend Greg Willinger invited me to go to the game with him and his father.  They were the best seats I ever had to a baseball game.  Ever.  Right behind home plate.  At a packed Shea Stadium, 55 thousand strong.   The Mets were trailing 3-1 entering the bottom of the ninth.  There was some talk about possibly leaving to beat the traffic, talk that Greg and I quickly tried to extinguish.  So we stayed and we were there when Ed Kranepool dumped a game winning RBI single to center off of Ferguson Jenkins to beat the Cubs, 4-3.  Shea, and all of New York, was rocking.
Which brings me to Tom Seaver and July 9, 1969 and my father.
There was only one sports story in New York that night.  Tom Seaver, the most important Met, was pitching against the Chicago Cubs in front of an SRO crowd at Shea Stadium.  And my father, the diehard Mets fan, was going to miss it.  Because July 9th was also my mother's birthday.  And to celebrate my mother's birthday, my father was taking her to the theater in New York.  8PM curtain.  Right smack dab in the middle of the game.
My father loved show business and he enjoyed going to the theater.  But not on July 9, 1969.  Some memories from more than fifty years ago can understandably be sketchy.  This one is vivid.  I was sitting in my room, back from day camp, when my father entered.  I was 10 and thought of my father in reverential terms, a territory only inhabited by Rod Gilbert, Walt Frazier and Bill Bradley, and four boys from Liverpool.  My father asked me if I had a transistor radio (if you don't know what that is, ask someone who was born before 1965).   I replied that I did.  He asked me to hand it over.  And suddenly I realized that for the first time in my life I had control in a situation with my father.  I had what George Costanza would refer to years later as "hand."  Sure, I was still living in my father's house and eating food bought by money he'd earned.   But he was going to the theater that night while I was staying home to watch Seaver and the Mets and he needed something that I had (again, bought with his money).  A transistor radio.   I showed him how to turn it on and he did (no doubt it was either on the pop station WABC or the Knicks and Rangers station WHN).   And of course it played out loud.  No good.  He then asked me if I had something to plug into the transistor, an ear piece, the 1969 version of ear buds.  I did.  I handed it to him, he plugged it in and listened to the radio without a sound heard by anyone else.  It all became clear.  My father, my hero, who loved his wife very much, was taking a transistor radio to the theater so that he could listen to Tom Seaver and the Mets during the play.  This was going to be Amazin'.
The story has gotten better and better as the years have gone by.  In the story that's now been told for decades, my father then turns to me, transistor radio and ear piece in hand, and says tersely but kindly, "and not a word to your mother."  At least I hope he said it because it's classic.
And off they went to the theater.  And I settled in to watch one of the greatest games in New York Mets history.  For eight innings and one out in the ninth, Tom Seaver was perfect.  No hits, no walks, no errors.  25 Cubs up, 25 Cubs down.  And then a little known Cub named Jimmy Qualls became a part of baseball history, lining a single to left to break up Tom Seaver's perfect game, turning it into what became known as "The Imperfect Game."
This was long before we could watch any television program whenever we wanted to thanks to DVR.  If you didn't see it, you didn't see it.  It was also before baseball games lasted about a week and a half.  The Tom Seaver "Imperfect Game" lasted two hours and two minutes, meaning that Qualls' hit came at around 9:00.  That would have been right in the middle of the show.  I have no memory of waiting up late that night to talk to my father about the game.  But I have a clear memory of his story about something unusual that happened at the theater that night.  Right around 9:00 there was an audible groan from more than a few of the theater goers, having nothing to do with what was transpiring on the stage.  Seems that my father wasn't the only one listening to the Mets that night on Broadway.
Tom Seaver will always be The Franchise.  It's been suggested that "The Imperfect Game" became more famous than a perfect game would have been.   It was a night to remember, a night that forged yet another indelible memory between a father and a son.  Amazin'.